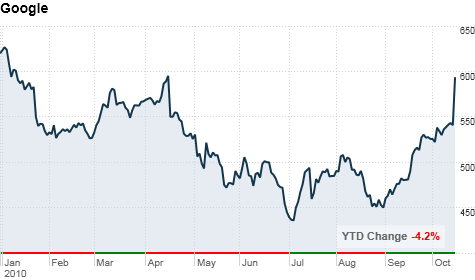 (CNNMoney.com) -- Shares of Google rose 11% Friday, reaching $600 for the first time in more than nine months, after the company posted solid quarterly earnings that impressed investors.
Google's (GOOG, Fortune 500) stock rose as much as $59.07 to $600 a share in midday trading, before sliding back a bit. It was the stock's highest level since January.
0Email Print CommentLate Thursday, Google reported a third-quarter profit that rose 32% on the back of stronger search ad fees from advertisers. But the company's results were also buoyed by its non-core businesses, like YouTube, display advertising and mobile.
Google defied skeptical investors and analysts who feared that the search giant would never find a a significant new revenue stream besides search advertisements. In the past, the company has been tight-lipped about the financial details of its non-search businesses, leading some analysts to speculate that those product lines were insignificant to the company's overall revenue.
But on Thursday, Google demonstrated how it is building new, multi-billion dollar businesses.
0:00 /03:17Brin: Google search just got smarter
For instance, Google has made tremendous headway in mobile. Its Android operating system will command 17.7% of the global mobile device market by year's end, according to a Gartner forecast, making it the second best-selling smartphone operating system, behind Nokia's (NOK) Symbian OS and ahead of Apple's (AAPL, Fortune 500) iOS. That's stunning, considering it entered the market just two years ago.
Google said its mobile advertising business was doing sales of $1 billion on an annualized basis. Display advertising, which includes images rather than textual ads, is on pace to be a $2.5 billion business annually. The company said its display business is likely the third largest in the world, behind AOL (AOL) and Yahoo (YHOO, Fortune 500).
Investors had slammed Google's stock this year, sending it down by as much as 30%. Shares started to rebound in September, but were still down 13% before Friday's market open. But Google's impressive quarterly numbers sent shares soaring, and the stock is now down just 3% for the year.
Still, shares of Google remain far from their all-time high of $747.24, set in November 2007.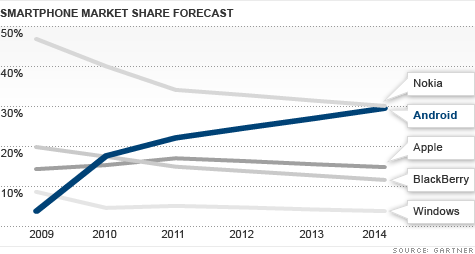 Google has made its famous search algorithm into a $20 billion business, but for years, investors have asked, "What's next?"
Google finally has an answer: Android.
162Email Print CommentThe company's numbers are still impressive -- analysts expect revenue to increase about 15% a year for the foreseeable future -- but they're a long way off from the heady days when Google was growing at a lightning-fast 40% each year. Google (GOOG, Fortune 500)'s stock price has tumbled 15% this year amid worries that the company is on its way to becoming a big, bad blue-chip stock like IBM (IBM, Fortune 500).
Despite years of developing and acquiring a dizzying array of social, productivity, communication and media applications, Google hadn't hit on any viable sales stream beyond Web search. That's become an increasingly important problem, with Facebook breathing down Google's neck for the lead in referrals to other websites -- one of the key statistics that advertisers look to when deciding which advertising networks to join.
But Google seems to have found its second magic bullet.
It gives away its open-sourced Android -- no money there -- but that approach has put Google's software at the heart of the technology that is poised to dominate the next decade.
Google is now one of the world's biggest players in smartphones. Android will command 17.7% of the global mobile device market by year's end, according to a Gartner forecast, making it the second best-selling smartphone operating system, behind Nokia's Symbian OS. IDC released a very similar forecast, though it expects Android to come up just short of Research in Motion's BlackBerry OS this year -- but still ahead of Apple's iOS.
By 2014, both Gartner and IDC expect Google to be neck-and-neck with Nokia in smartphone OS market share. And by 2015, Android will take the lead, attracting more than half billion users, according to Informa Telecoms & Media.
That's stunning, considering Android didn't debut on its first device until late September 2008. Its first successful launch was another year off, when Verizon (VZ, Fortune 500) started selling the Motorola Droid in November 2009. Android's market share was just 3.9% in 2009, according to Gartner -- well behind Windows Mobile and "other."
Google: The search party is over
So how can such a wildly successful product be overlooked by investors?
Google doesn't make a penny licensing Android. Because Android is open-source, anyone can grab its code and use it to run mobile devices. That price point -- free! -- reeled in major manufacturers like Motorola (MOT, Fortune 500), HTC, Samsung and LG.
But Google isn't giving away a vital smartphone component out of the goodness of its heart. Its plan is to make money by driving mobile users to enter searches, both on its mobile site and through pre-installed apps that route traffic to Google. It also gets a 30% cut of Android Marketplace app purchases, and sells in-app ads for outside developers through its AdMob network.
By 2013, Android will be a $4 billion-a-year business for the company and "a blockbuster success," Caris & Co. analyst Sandeep Aggarwal forecasts. That's a nice revenue bump for a company that had sales of $24 billion last year.
But Google is dreaming even bigger: At last month's Zeitgeist conference in Arizona, Google CEO Eric Schmidt told reporters that he sees Android as a $10 billion business.
"If we have a billion people using Android, you think we can't make money from that?" he asked.
And Google isn't stopping with phones. The Android network is already connecting 200,000 new devices each day and will soon be making its way into tablets and TVs. Other connected devices -- even refrigerators -- are likely to join the ecosystem.
The company also has some tricks up its sleeve that could expand its mobile kingdom.
Three years ago Google snapped up communications technology developer GrandCentral Communications, which created a system for letting one phone number ring multiple devices. GrandCentral's software grew into Google Voice, an addictive service that centralizes voice communications and offers a bunch of enhancements, like instant voice-to-text transcription.
Google Voice's mobile service currently piggybacks on carriers' networks to enable free domestic calls and texts, and low-cost international calls. But on PCs, Google lets users place voice calls directly over the Internet. It's easy to connect the dots and envision a scenario in which Google launches its own data-only phone network, in competition with the major wireless networks.
The best indication of Android's success may the scare it's put into Google's rivals. Oracle slammed Google last month with a lawsuit claiming Android infringes on Java patents. Mark Driver, an analyst at Gartner, thinks Oracle picked that fight because "there's just tons and tons of potential money in this."
Last week, Microsoft piled on, suing Motorola for patent infringement related to its Android-powered smartphones.
And, of course, there's Apple CEO Steve Jobs, who has accused Google of falsely inflating its activation numbers.
Google's had its share of product flops this year, including the widely criticized Buzz and now-dead Wave. "Our policy is we try things," CEO Eric Schmidt said of Wave's demise. "We celebrate our failures."
We're betting they celebrate the successes more -- and with Android, it looks like Google is sitting on a gold mine.